US Navy Sailors Die in Helicopter Crash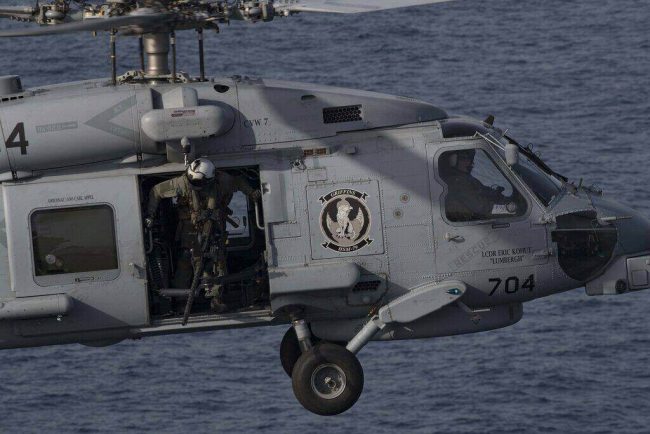 The United States Navy officially released the names of the sailors declared dead on Sunday, Sept. 5, 2021. The crash was reported last Tuesday and occurred 60 miles from San Diego, California, at approximately 4:30 p.m. PDT. They were doing a routine flight mission with an MH-60S helicopter from the USS Abraham Lincoln Nimitz-class aircraft carrier, according to reports from the Navy 3rd Fleet spokesperson.
A total of six sailors were in the helicopter when it crashed; one was rescued. Five others on deck during the crash were also injured but in stable condition.
The Identity of the Sailors
All five sailors have been identified;
Lt. Bradley A. Foster of California, 29.
Lt. Paul R. Fridley of Virginia, 28.
Naval Air Crewman 2nd Class James P. Buriak of Virginia, 31.
Hospital Corpsman 2nd Class Sarah F. Burns of Maryland, 31.
Hospital Corpsman 3rd Class Bailey J. Tucker of Missouri, 21.
A group of Coast Guard and Navy units were deployed to help search for the sailors. These included ships and helicopters such as the USS Abraham Lincoln, U.S.S. Cincinnati and other Coast Guard vessels. After three days of rescue efforts, the operation was changed from search to recovery.
Although the search has wound down, the event is still under investigation. The chief of Naval Operations, Adm. Mike Gilday, said in a statement "We are deeply saddened by the loss of five sailors and those injured following the MH-60S helicopter tragedy off the coast of Southern California. We stand alongside their families, loved ones, and shipmates who grieve."
Written By Chiagozie Onyewuchi
Edited by Cathy Milne-Ware
Source:
CNN: Navy declares five dead after helicopter crash off California coast; by Barbara Starr
CNN: 5 crew members unaccounted for after US Navy helicopter crashes off the San Diego coast; by Alexandra Meeks
ABC News: Navy identifies 5 missing sailors declared dead after helicopter crash; by Luis Martinez and Matt Seyler
The New York Times: 5 Missing Sailors Declared Dead After Helicopter Crash; by Maria Cramer
Featured and Top Image by Mass Communication Specialist 1st Class Jeremy Graham Courtesy of U.S. Indo-Pacific Command's Flickr Page – Creative Commons License
Inset Image by Mass Communication Specialist 3rd Class Amber Smalley Courtesy of Official US Navy Page's  Flickr Page – Creative Commons License