Star Millie Bobby Brown Blasts Bullying After Twitter Leave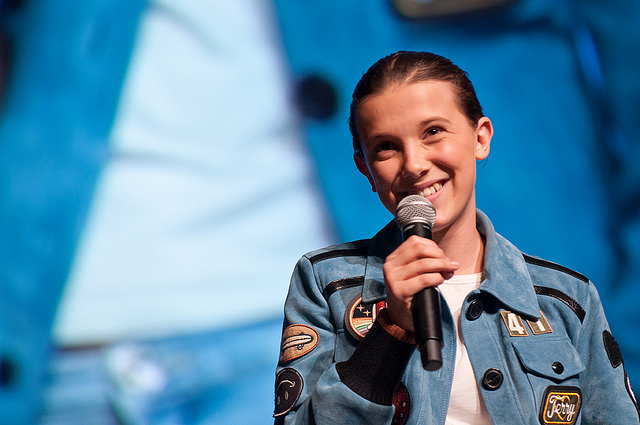 Young actress Millie Bobby Brown, due to a serious knee injury, sat out MTV's Movie and TV Award ceremony, but Brown made a special appearance via video in order to give her acceptance award speech. By sharing her view on how to handle bullies, "Stranger Things" fans have both applauded and sympathized with her attempt at approaching her own experience with cyberbullying.
The speech, however, is a result of trolls and tweets posting negative memes and messages of how the actress was an "avid" homophobe. The statements made from these messages have been proven faulty. She maintains she is a supporter of all races, sexual orientations, and religions. Noah Schapp, a co-star of Brown's, identified the messages as others being insensitive and childish, while defending his friend.
Due to the streams of homophobic messages on Twitter, Brown declared that she would delete her main Twitter account, but not before sharing a token of knowledge with her fans.
Knowing that many of her fans would be mostly young children, she shared a reminder of what her parents taught her: "If you don't have anything nice to say, just don't say it." In the video, the actress declared that there is no space in the world for bullying and she would not let any bully walk over her and neither should others.
As a young 14-year-old, landing the role of Eleven in "Stranger Things" was a life-changing event for Brown. To fans, Brown's acting career is something to be in awe over, even more so now that she has shown the initiative in being public about harassment and bullying.
Bullying has, and still is, a serious problem in any environment. This form of abuse in power, words, and status over others is what can lead to an increase in suicides and depression rates. Evident everywhere, especially in work environments, school, and even at home, bullying has a recurring problem of being ignored and labeled as a "one-time thing."
Although the main form of bullying is seen in person, as of late, there have been more instances of cyberbullying. There are still many incidents where victims have experienced multiple forms of harassment, both physical and mentally abusive in nature. As a result of these attacks, multiple victims have attempted or committed suicide, leaving behind torn families that want to spread awareness of the negativity and wrongness of bullying.
Celebrities have taken their own lives as a result of cyberbullying. It is unfortunately common for many celebrities to receive hate messages that target their livelihood or even social views; no matter if it was based on faulty rumors or a misconception.
By showing that she was not an everyday pushover, and did not tolerate slander or bullying of any kind, the young actress aims to inspire others to stand up for themselves or even stop harassing others.
Written by Brielle R. Buford
Edited by Jeanette Smith
Sources:
ABC News: 'Stranger Things' star Millie Bobby Brown slams bullying in awards speech after Twitter exit
Page Six: Millie Bobby Brown claps back at bullies after Twitter exit
Paper: Millie Bobby Brown Responds to Homophobic Memes
Top and Featured Image Courtesy of Roger Nowlin's Flickr Page – Creative Commons License