Ring in 2019 With the 47th 'Dick Clark's New Year's Rockin' Eve'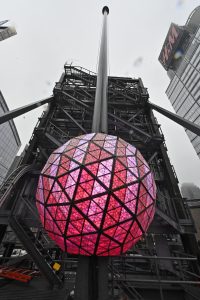 Usher in 2019 with "Dick Clark's New Year's Rockin' Eve with Ryan Seacrest." This year marks the 47th time millions of Americans are entertained while counting down the final moments of the year.
Kick off the party at 8:00 p.m. ET on ABC for 5 1/2 hours of entertainment. Once again, Jenny McCarthy will join Seacrest as a co-host live from New York's Times Square. "New Year's Rockin' Eve's" headliner is Christina Aguilera in her first appearance since 2007.
From the Times Square stage, the evening lineup includes the music of U.K.'s Bastille; the easy-listening sound of Dan + Shay; and a live trip down memory lane with The New Kids on the Block.
Ciara is set to host the celebration from the West Coast. Artists joining her are Weezer, Foster the People, Shawn Mendes, Ella Mai, Dua Lipa, Charlie Puth, Maren Morris, Bazzi, Camila Cabello, and Halsey.
"Pretty Little Liars" star Lucy Hale returns to host the third annual party live from New Orleans. Performances and fan interviews will take place near historic Jackson Square. Artists include Country Grammy nominees Marin Morris and Florida Georgia Line (FGL) with vocalists Tyler Hubbard and Brian Kelley.
The "New Year's Rockin' Eve" celebration highlights will be collaborations from The Chainsmokers and Kelsea Ballerini; Kane Brown and Lauren Alaina; as well as Macklemore and Skylar Grey.
Just before midnight, Aguilera will usher in 2019 with a medley of her hits. After the clock strikes midnight and the ball has dropped, multi-Platinum rapper, Post Malone picks up the celebration from his show in Brooklyn at Barclay's Center.
Remembering 'Dick Clark's New Year's Rockin' Eve'
The first edition of the New Year's celebration was produced by Dick Clark. It aired in 1972 as a musical special on NBC. The program ran counter to Guy Lombardo's annual New Year's Eve program on CBS, which Clark believed was outdated.
In 1972, "New Year's Rockin' Eve was hosted by Three Dog Night. George Carlin served a host the following year. Clark, himself became the host beginning the third year when the program moved to ABC.
It was not long before the program became a cultural tradition with Clark counting down the moments until the ball dropped at the stroke of midnight. The only year it did not air was in 1999 when "ABC 2000: Today" with Peter Jennings.
However, in December 2004, Clark suffered a minor stroke and was unable to fulfill hosting duties. Instead, Regis Philbin graciously substituted. The following year Ryan Seacrest became the primary host. Co-hosting the program, Clark told the audience he was still recovering but he would not have missed the broadcast for anything. Until his death, he returned for the countdown.
When Seacrest was asked if he felt Clark's legacy was still part of "New Year's Rockin' Eve," he told Billboard magazine:
Every time we sign on to do this broadcast, we remember working with him for many years before we did it on our own. We have so much respect for the franchise he built and the kind of guy that he is, and the smoothness in which he makes it all work.
He fondly remembers Clark advising him to be silent when its midnight because people did not want to pay attention to the host, they want to be kissing their partners and toasting the new year.
Seacrest states there is no moment of the show when he does not have vivid memories of working with Clark. McCarthy adds, "I hope you're proud, Dick."
Dick Clark (1929-2012) built an entertainment career beginning in 1952. He was known as the World's Oldest Teenager and, until his stroke, seemed to age more slowly than his peers.
Written by Cathy Milne-Ware
Sources:
Billboard: Florida Georgia Line and Maren Morris to Perform On 'Dick Clark's New Year's Rockin' Eve'
Billboard: New Year's Eve 2019: Where to Watch Jennifer Lopez, Shawn Mendes & More Ring in the New Year
Billboard: How to Watch 'Dick Clark's New Year's Rockin' Eve' 2019
IMDb: Dick Clark
Featured Image Courtesy of BluEyedA73's Flickr Page – Creative Commons License
Top Image Courtesy of ABC|Disney Television Group – Used With Permission
Inset Image Courtesy of Cathy Milne-Ware