President Trump Ousts Jim Mattis From Office 2 Months Early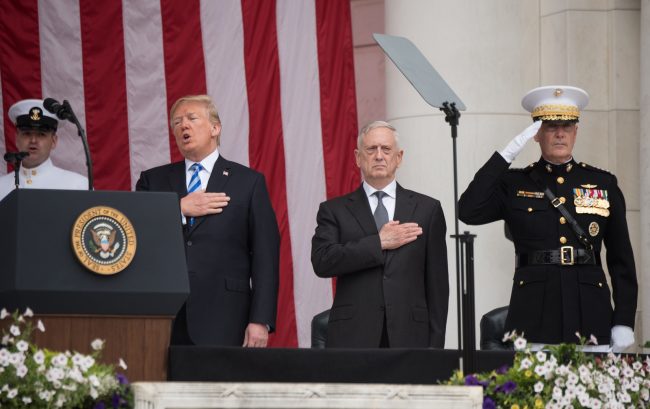 Outgoing Secretary of Defense Jim Mattis used his resignation to rebuke Donald Trump. He intended to leave office on Feb. 28, 2019, but the president is angry, so he is considering removing the secretary from office two months early.
President Donald Trump's record of dealing with his cabinet members who resign is consistent. First, he praises them for all of their excellent work then his anger took over. His secondary strategy is to condemn their actions while on the job.
On Dec. 20, 2018, Trump had the letter of resignation at the time of the tweet praising Mattis. First, he wrote the secretary was retiring with distinction, which was a lie. Then, Trump praised their work securing "new fighting equipment" and their actions surrounding America's allies paying the U.S. their fair share of military monies. Finally, after stating a new Secretary of Defense would be named soon, the president wrote:
I greatly thank Jim for his service.
On Saturday, December 23, the president named Mattis' deputy to take over temporarily:
I am pleased to announce that our very talented Deputy Secretary of Defense, Patrick Shanahan, will assume the title of Acting Secretary of Defense starting January 1, 2019. Patrick has a long list of accomplishments while serving as Deputy, & previously Boeing. He will be great!
Analysts state these contrary statements indicate the president did not understand the full impact of Mattis' resignation letter, which chastised Trump's actions militarily. The abrupt removal of troops from Seria, his handling of Saudi Arabia after the murder of The Washington Post's journalist Jamal Khashoggi, and his overall belittling of American allies.
In another tweet posted by the president on Saturday attempts to justify dismissing Mattis before his announced departure date. This tweet was an insult to both the outgoing secretary and former President Barack Obama:
When President Obama ingloriously fired Jim Mattis, I gave him a second chance. Some thought I shouldn't, I thought I should. Interesting relationship-but I also gave all of the resources that he never really had. Allies are very important-but not when they take advantage of U.S.
The New York Times reports that both Shanahan and Mattis hail from Washington state. Unlike Mattis, who is a retired four-star general, Shanahan comes from a business background. In his official biography on the U.S. Department of Defense website, it details his experience and education.
When Shanahan worked a Boeing, after spending three decades, his last position was senior vice president, Supply Chain & Operations. He holds a "Bachelor of Science degree in mechanical engineering from the University of Washington and two advanced degrees from the Massachusetts Institute of Technology: a Master of Science degree in mechanical engineering, and an MBA from MIT's Sloan School of Management."
Perhaps since the president is desperately trying to run the country like a business, he and the incoming temporary secretary of defense will have a better relationship. One of the things Trump's aides mentioned is that Shanahan frequently tells Trump that his concerns about the national defense policies are valid.
Having someone who praises him is something the president needs to boost his ego. His behavior well documents that he suffers from Narcissistic Personality Disorder. In the last 3 years, he has repeatedly proven that without strokes to his ego, Trump lashes out. Not only that but his compulsive need to appease his fan base also demonstrates his desperate desire to be admired and trusted.
Written by Cathy Milne-Ware
Sources:
The New York Times: Trump, Angry Over Mattis's Rebuke, Removes Him 2 Months Early
Twitter: Donald J. Trump; @realDonaldTrump
U.S. Department of Defense: Patrick M. Shanahan
Featured and Top Image by DoD Photographer U.S. Army Sgt. James K. McCann for Chairman of the Joint Chiefs of Staff's Flickr Page – Creative Commons License