How a Journalist Finds Their Story
I want to tell you how finding the proper news and stories can benefit and help expand your knowledge of what it takes for a journalist to find their stories. So what is journalism? Well, journalism is the production and distribution of reports on the interaction of events, facts, ideas, and people that are the "news of the day" and that inform society to at least some degree. To start a good story, you need to know what you want or are assigned to write about. First, you must have a reliable primary source, a non-fiction book, text, or an article. A reliable website with credible sources, author with date and time. Websites along the lines of popular newspapers, or ending in ".com" or ".org". If you hear of a story, you need to make sure it is backed up by evidence like, statistics, facts, and the three main sources.
How to get started
First, you would have a Primary source. Now a primary source is records of events or evidence as they are first described or actually happened without any interpretation or commentary. It is information that is shown for the first time or original materials on which other research is based.  Primary sources display original thinking, report on new discoveries, or share fresh information. Some examples of primary sources are scholarly journal articles (research-based), some government reports, conference proceedings, original artwork, poems, photographs, speeches, letters, memos, personal narratives, diaries, interviews, autobiographies, and correspondence, stuff that can come straight from the maker or source themselves.
Then there's a secondary source. A secondary source is an analysis or restatement of primary sources. They often try to describe or explain primary sources. They tend to be works that summarize, interpret, reorganize, or otherwise provide an added value to a primary source. A few examples of secondary sources would be, textbooks, edited works, books and articles that interpret or review research works, histories, biographies, literary criticism and interpretation, reviews of law and legislation, political analyses, and commentaries. These two ideas are the best and the most you want to use.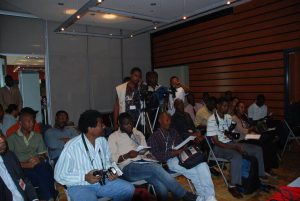 Another way of obtaining stories is by going out into your own communities and interviewing important members of said communities and asking them questions. Even watching videos of interviews or articles of the same interviews is all you need. Getting other members of the community is another great way to see what about your community is worth writing about, members like small business owners, schools, police stations, public parks, libraries, food pantries, big or special events, etc. Now the types of questions you want to ask are the type you believe other people in your community would ask. Questions that you feel give the most information, seemingly open-ended.
Now you want to write. Listening to interviews more than two or three times is a great way to pick up important information making sure what you have written makes sense to the viewer or reader. Quoting is not something you want to do too often as it can be seen as plagiarism unless you personally interviewed the person yourself, so unless you don't want to copyright (which you don't) it's better to interpret the text, article, etc. yourself and write it in your own words.
Adding photos to your articles is necessary. You want to capture the viewer's attention using photos with bright colors or images that stand out but still relate to the text. You also still want to make sure you use creative commons because you don't want to copyright photos either. So get started finding and writing your story!
By: Zaylah De la Torre
Edited by Sheena Robertson
Sources:
LinkSourcery: How Do Journalists Find Stories? by Nicole Abasta
Medium: How journalists find stories and write articles by Blažej Kupec
The School of Journalism: TOP TIPS FOR JOURNALISTS: HOW TO SOURCE STORIES
Top and Featured Image Courtesy of Elias Ruiz Monserrat's Flickr Page – Creative Commons License
Insert Image Courtesy of Jean Jacques AUGUSTIN's Flickr Page – Creative Commons License