Discussion of Abortion After Rape
Abortion has been a very controversial topic forever. Roe vs. Wade, a 1973 decision by the US Supreme Court, ruled that terminating a pregnancy (except to save the mother's life) was unconstitutional. The decision legally mandated this procedure.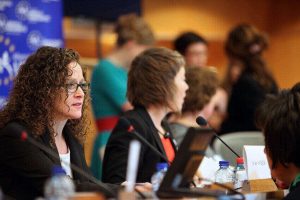 Many Christians are not fans of abortion and believe that when the government tells them what they can and can not do with their bodies, life, etc., we are in trouble.
What if an elected official felt that the amount of plaque removed from one's arteries mattered, not the fact that the person wanted the plaque removed, no matter the amount? This should not be the government's decision to make. There should be a line drawn.
Babies are born to teenagers and women with abusive husbands, low-paying jobs, some college, no education, and women whose husbands have abandoned them and their children. Married women are sometimes left to fend for themselves when their husbands walkout. Any one of these situations could be why women would have an abortion, and the government should have no part in the decision-making process.
Most Christian organizations support these women with words of encouragement, prayer, and some physical help, such as babysitting and helping with food.
Women Have Abortions for Many Reasons Aside From Rape and Incest
During her first pregnancy, Erica Goldblatt Hyatt was told by her doctor that her unborn son had trachea and chromosomal abnormalities, which could lead to a miscarriage. She and her husband spoke with their doctor, and all agreed to end the pregnancy.
Another couple had two small children, born very close together. When the wife discovered she was pregnant again, she and her husband decided it was not a good time to have another baby. They later had their third child, a son, who she says, "if not for the abortion, he wouldn't be alive."
One of the most controversial subjects, to Christians and non-Christians alike, is regarding abortion is deciding to keep a baby conceived after rape. Many believe that Jesus is the giver and taker of life. Therefore, even though a baby is conceived due to rape it is likely they may decide not to abort the child.
The Bible does not offer specific information regarding abortion. However, scriptures support a loving God, who created man and died to restore man back to Himself. He provided the Holy Spirit to help humankind to keep His commandments. But God has also given His followers a choice to obey Him.
Rape Victims Matter
It is assumed that a rape victim who conceives would naturally have an abortion in today's society. The pressure surrounding this attitude would make some women think twice. Below are some things a victim may consider:
Shame
Can I, or my family, love this child?
Genetics
People doubting the rape
Telling the child about his/her father?
Congressional Commentator, Kathy Barnett, shared her story of being a child of rape. She credits her grandmother and paternal grandparents' assistance in raising her and for her "charmed" life. She shared her story hoping that some other mother would choose life for a child conceived by rape.
"God saw all that he had made, and it was very good," Genesis 1:31.
Abortion after a rape may be considered the route to go, but no one really knows the lasting effects it has on the victim, who, by the way, never want to be remembered as a victim.
South Carolina proposed the H.3020 bill, which states that to claim a rape exception, one must report the rape to the police. Rita Smith, an International expert in violence against women and vice president of external relations with DomesticShelters.org, says, "Not only do survivors have to report, but police have to believe them." 
RAINN, (Rape, Abuse & Incest National Network) reports that three out of every four rapes do not go reported and that out of 1000 assaults, 995 perpetrators will go free.
Written by Brenda Robinson
Edited by Cathy Milne-Ware
Sources:
Planned Parenthood: Abortion Stigma: What About in Cases of Rape and Incest? By Margot Schein
The Washington Post: Abortion Support is the Highest it's Been in Two Decades As Challenges Mount; by Emily Guskin and Scott Clement
RAINN (Rape, Abuse & Incest National Network): The Criminal Justice System: Statistics
The Northeast Church: Does the Bible say abortion is wrong? by Ronnie Worsham
Focus On The Family: Scriptures Advocating For The Pre-Born; by the Advocacy Team
CNN:  Women Have Abortions For Many Reasons Aside From Rape and Incest; Christina Zdanowicz
Focus On The Family: Is Abortion Okay After Rape? by Jennifer Christie
Fox News: I Am The Product of A Rape and My Life Matters; Kathy Barnette
Top and Featured Image Courtesy of Andy Lederer's Flickr Page – Creative Commons
First Inset Image Courtesy of ALDE Group's Flickr Page – Creative Commons
Second Inset Image Courtesy of jess.g.'s Flickr Page – Creative Commons