Collins Academy High School Hopes to Remain Open
Chicago Public Schools officials are on the verge of closing Collins Academy High School. Collins Academy, located on the west side of Chicago's North Lawndale neighborhood, is a predominately African-American high school. It has an academic history of being below CPS standards based on the city's requirements.
Chicago's school evaluation system is based on levels. The highest is level 1+, which means that the performance rating is well above 90 percent. Level 1 schools need no CPS assistance as they achieve 70-89 percent. Level 2+ is considered an average school. The schools that score below the 40th percentile, levels 2 and 3, will result in the institution being placed on the "Academic Warning List."
A school being on this list means that the school has a possibility of being shut down permanently by CPS.
Since 2014, over 50 schools in Chicago have been shut down due to the institution performing below standards. Many of these schools were either located in low-income neighborhoods or the majority of students were minorities.
Interestingly, CPS has been slow in providing these schools with the financial support to remain open. Instead, the city has chosen to spend its money on unimportant improvements to the Chicago Police Department, restaurants, and rehabilitating the city's public train stations.
As of Oct. 31, 2017, Collins Academy is classified as a level 2 school. It was, however, formerly a level 3 school, which is considered far below standards. The school's principal, Mrs. Lakenya Sanders-Sharpe, says that the initial goal of the school this year, is to significantly increase the school's level to 2+.
Recently, the school's score has advanced from level 3 to a level 2. This progress has been linked to the fact that students appear to be more motivated, which as enhanced their performance in the classroom. Additionally, there has been an increase in the number of college acceptance letters students have received. If Collins continues to follow this path, Principal Sharpe believes the school will soon reach level 2+. One highly motivated staff member, Ms. Gottlieb also stated, "Kids just having the idea of opportunity, will then, in turn, motivate them to want to be successful."
Collins Academy has also contributed to their student's future success by having a program in place to help them achieve higher scores on their ACT.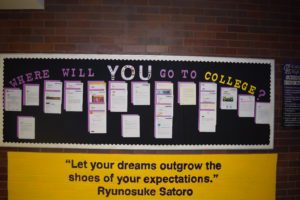 The ACT is an exam that is usually required for students to gain entry into college. Their acceptance is based on their scores in math, reading, and science. Ms. Gottlieb, who works in the main office, explains: "We take our students on many trips to go on college tours. These trips help them get a taste of what college life is like as well as motivating them."
Collins Academy's current graduation rate is 55 percent. Their attendance rate is 90 percent. Based on CPS requirements for charter schools, their graduation percentage must increase by four points, and their attendance rate must increase by 2 percentage points. The school has many more standards to meet, but by the end of the 2017-18 school year, this academy will have reached its goal and will no longer be on the Academic Warning List.
Written by Parris Winfrey
Edited by Staff
All Images Courtesy of Collins Academy High School